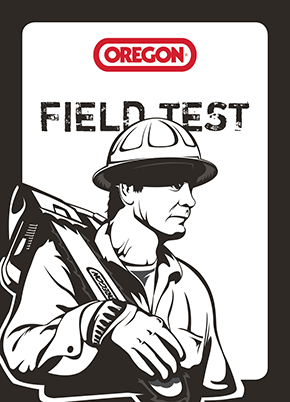 Do you use a chain saw? Oregon® is looking for both professional and home owner chain saw users who are interested in testing Oregon® products. If this sounds like something that interests you, please click here to apply for the Oregon Field Testing Program.

Oregon® is looking for additional users that are interested in testing our new
forestry products.
Oregon® has several exciting products in the pipeline, and we will have needs for a variety of users to help confirm the performance of our latest innovations before they are available to the general public.

Regardless of whether you currently use our products or those of a competitor, we want your input on how we can better help you get your job done right.
If you are interested, please take a moment to fill out the short application so that we can add you to our list of field test candidates. We will then contact you when the product testing opportunities and your experience align.
How this works: Once both parties agree to the terms of the agreement, we provide test product with a commitment from you to put it through its paces and return the Oregon® product when you're done. The product return step is essential to us because we look very closely at what comes back, along with your comments and feedback. In some cases, we may ask to meet you and see the product in use, in order to get the most value out of your expertise.